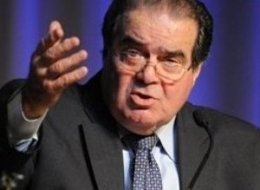 Supreme Court Justice Scalia recently declared (not for the first time) his opinion that sex and gender discrimination are not covered by the 14th Amendment, otherwise known as the Equal Protection clause. Just to review, the 14th Amendment forbids states from denying any person "life, liberty or property, without due process of law" or to "deny to any person within its jurisdiction the equal protection of the laws." (The clause was later interpreted to also cover the federal government and its agents, not just states).
The "Left" is up in arms this morning, attacking Scalia for denying women their rights as people to due process and equal protection. The "Right" is denouncing the Left's interpretation of Scalia's remarks, claiming that Scalia didn't say it was required to discriminate against people based on sex or gender, just that the 14th Amendment doesn't prohibit it. (For the actual text, check out the California Lawyer Interview here).
Justice Scalia claims that sex and gender discrimination are not what the 39th Congress had in mind when it debated and passed the Amendment in 1868. Now, I don't necessarily disrespect people who simply have a different opinion from me, but what I can't stand is hypocrisy. Justice Scalia may claim that the 14th Amendment was written in order to grant equal protection to blacks (true), but it's important to note two things here: A) the Constitution was intended to be a living, breathing document, rooted in values and interpreted based on current understanding of society, and B) that nowhere in the 14th Amendment does it equate corporations with people, either.
And that's where one of our biggest problems lies. Justice Scalia recently voted in favor of granting corporations the same legal rights as people in the famous Citizens United vs. Federal Election Commission case, which ruled that if people have the right to free speech (and therefore the right to express themselves by spending money), then, gosh darnit, so do corporations.
Granting artificial personhood to corporations is not new, and in fact has a long complex legal history. But the law distinguishes between "personhood" and "artificial personhood." Corporations being granted the first label and not the second dates back to a court clerk jotting down a note on top of his records of a case to indicate that the Supreme Court had ruled that corporations are to be treated like people. The case was Santa Clara County v. Southern Pacific Railroad, and what SCOTUS had actually ruled was that only a state that charters a corporation can tax it.
Where did this clerk get the idea that the court had ruled that corporations were people? From when Supreme Court Justice Waite declared "the court does not wish to hear argument on the question whether the provision in the Fourteenth Amendment to the Constitution, which forbids a state to deny to any person within its jurisdiction the equal protection of the laws, applies to these corporations. We are of the opinion that it does." And then went on to deliver the actual ruling on the case, which pertained to whether the railroad was required to pay taxes to Santa Clara County. From this "aside" on the part of a Justice to the note written down by a clerk, we have equal protection for corporations as if they were people.
Justice Scalia noted in his interview that if the people of the United States wanted to change or alter the Constitution, "we have legislatures." That this is part of the Democratic process, and it isn't up to "activist judges" to simply "reinterpret the Constitution" to suit their needs. And yet, Justice Scalia is happy to grant the rights of people to corporations based on precedent set by an aside by made a Supreme Court judge. Granting "personhood status" to entities isn't new, but it's taken a strange and bizarre turn this year. First, the Citizens United case that granted corporations the same rights and protections as people (supported by Justice Scalia). Then, in Colorado, a referendum was voted on that would have granted the full rights and protections of people to… fetuses.
Why conservatives like Justice Scalia want to give rights and protection under the law to corporations and to groups of cells, but not to women, is baffling to me. Of course, if you don't believe that women are people, I suppose it's not so confusing after all.